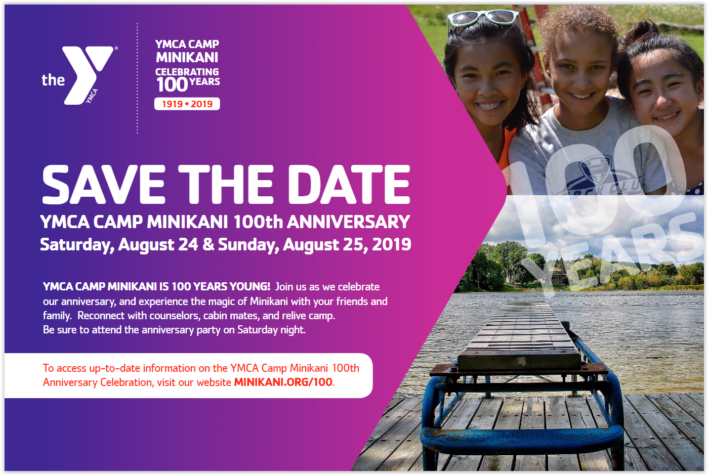 100th Anniversary Spotlight: Milwaukee Business Journal Article by Rich Kirchen highlighting the 100th Anniversary
In advance of YMCA Camp Minikani's 100th anniversary celebration, I toured the camp I attended as a Milwaukee city youth decades ago acquiring my first extended experience in what seemed like the wilds of Wisconsin.
That same sense of adventure and new experiences thrives today at the 150-acre camp in Hubertus, which is just beyond suburban Germantown. Camp Minikani removes kids from their day-to-day urban and suburban lifestyle — including unplugging mobile devices and video games — and immerses them in healthy outdoor activities.
My tour guide was the camp's executive director Jon Fleming McLaren, 46, who also is a Camp Minikani alum.
McLaren told me Camp Minikani takes great pride in literally unplugging kids from their daily mobile-device lives. He said few, if any, of the campers complain after their first moments on the property.
McLaren describes some of the facilities at Camp Minikani as "rustic but not run-down." The anniversary will mark the unofficial start of a capital campaign to upgrade some buildings and replace others.
Many of the structures remain from my camper days, including the cabins for pre-teens, the Council Bluff gathering area and Norris Field. The only thing is, everything seems much smaller than my 11-year-old self remembers.
Camp Minikani is as popular as ever with a waiting list to be one of the 300 summer campers at any given time. The camp stays busy during the off-season hosting school groups, equestrian programs and other activities.
The YMCA of Metropolitan Milwaukee owns the camp and Minikani records a small profit, said Milwaukee YMCA CEO and president Carrie Wall.
About 10% of campers attend with financial scholarships, McLaren told me. My attendance was made possible by selling YMCA cookies door-to-door. Milwaukee YMCA executives would like to increase the percentage of scholarships in part through the planned capital campaign.
Find the article with photos HERE
Minikani was founded by the Milwaukee YMCA in 1919 as an all-boys summer camp. Starting in 1969, the camp dedicated its first spots to girl campers. The anniversary celebration includes an open house Saturday, Aug. 24, from 9 a.m. to 3 p.m. and Sunday, Aug. 25, from 9 a.m. to 2 p.m. The festivities will include tours, food trucks and kids activities. Admission is free, but a donation is suggested. A 100th anniversary event on shores of Amy Belle Lake is scheduled for the evening of Aug. 24. It will include appetizers, a cash bar and a paddle auction. A limited number of cabins are available for rent at $500. Adult tickets are $50 and tickets are available for children age 12 and under, which includes supervised programming and a meal.
Tags:
100th Anniversary
,
Alumni
,
Milwaukee Business Journal
,
YMCA of Metropolitan Milwaukee
100th Anniversary Spotlight
Comments