As a branch of YMCA of Metropolitan Milwaukee, we are committed to equity and inclusion by ensuring that all members of our community have the opportunity to learn, grow and thrive. We celebrate diversity and effectively engage, connect and advocate for our staff, members and volunteers, which will position us to respond and remain relevant to issues that impact our communities.
Dimensions of Diversity
The diversity wheel (right) represents various dimensions of diversity. To be truly inclusive to all, we are committed to understanding the many factors that make up and influence a person's individuality. To learn about dimensions of diversity, please click the button below.
More Info
our Changing Communities
Communities across the U.S. are rapidly changing. As neighborhoods become more diverse, it is important that we understand those within our community and how to best serve their interests and needs.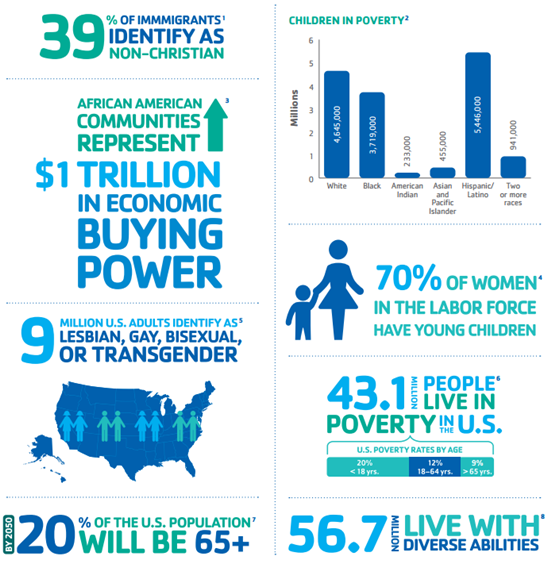 equality vs. equity – Advancing Equity for All
Oftentimes, the terms equity and equality are used interchangeably. However, while related concepts, equity and equality have distinct meanings. Equality is defined as treating everyone the same, while equity is providing people the tools and resources to be successful. Everyone should have the opportunity to be successful and live a fulfilling life. Unfortunately, we all do not begin life in the same situations or have the same lifestyles, backgrounds, needs and wants. Far too many people, especially those in under-served groups and communities, lack equal access to resources, opportunities or support systems. In order to fully promote equity, we must "level the playing field" by identifying and eliminating barriers and developing solutions and support systems so that individuals are able to successfully realize their potential.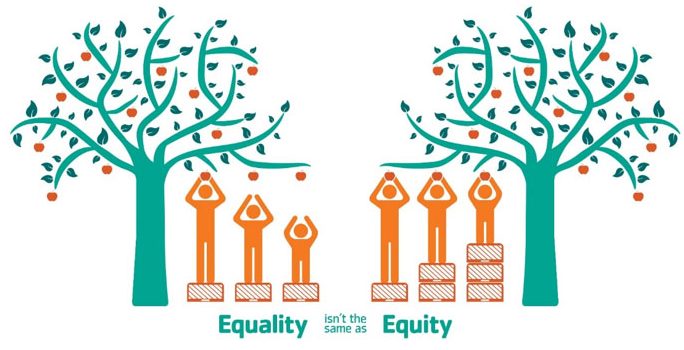 In the graphic above, the apples represent opportunities that people need in order to reach their potential. The size of the individuals represents the impact that systemic inequities have on people and communities.  Lastly, the boxes represent the support systems that help individuals thrive by overcoming barriers.
YMCA Equal Employment Opportunity (EEO) Statement
The YMCA does not discriminate on the basis of race, color, religion, sex, age, national origin, disability, genetic information or other legally-protected status.  The YMCA is committed to providing an inclusive and welcoming environment consistent with its mission.