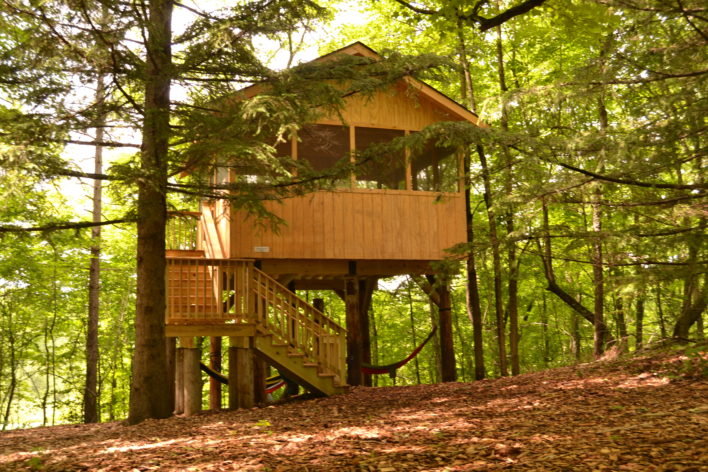 YMCA Camp Minikani celebrates opening of Tom's Treehouse
Camper-centric counseling is a 99-year-old legacy at YMCA Camp Minikani. This summer, a grand treehouse along the shores of Mud Lake will continue this very legacy—in the name of one exceptional mentor.
Tom's Treehouse will be a space where children are provided agency to be their best selves, while also learning social and emotional skills in a natural setting.
"When campers arrive this summer, they will be celebrated for who they are," Summer Camp Director Peter Drews said. "They will be counseled by near-peer figures who love their work and strive to make magic for every camper. Campers will be surrounded by tradition that goes back generations and empowered to write the next page of the long Minikani experience."
Every aspect of the treehouse is designed to build and strengthen relationships among campers and counselors. In particular, Tom's Treehouse features a hammock village underneath the structure for shared quiet and relaxation time. Inside of the treehouse, campers and counselors will work together to tow a weighted pulley that powers the lighting system. Additionally, the walls of the treehouse are lined with thoughtful questions, carved into wood, that encourage counselors and campers to share their perspectives.
Dedicated to previous Summer Camp Director Tom Cramer, the treehouse was created as a space for campers and counselors to reflect and bond over shared outdoor experiences. Cramer remains active in the lives of youth in Milwaukee area.
"One of Tom's greatest strengths as a leader is his ability to build connections with the people he interacts with," Drews said. "He makes the person in front of him feel like the most important person in the world."
More than 100 staff, alumni and friends of Minikani contributed to the project, many of whom Cramer positively impacted during his leadership.
Comments