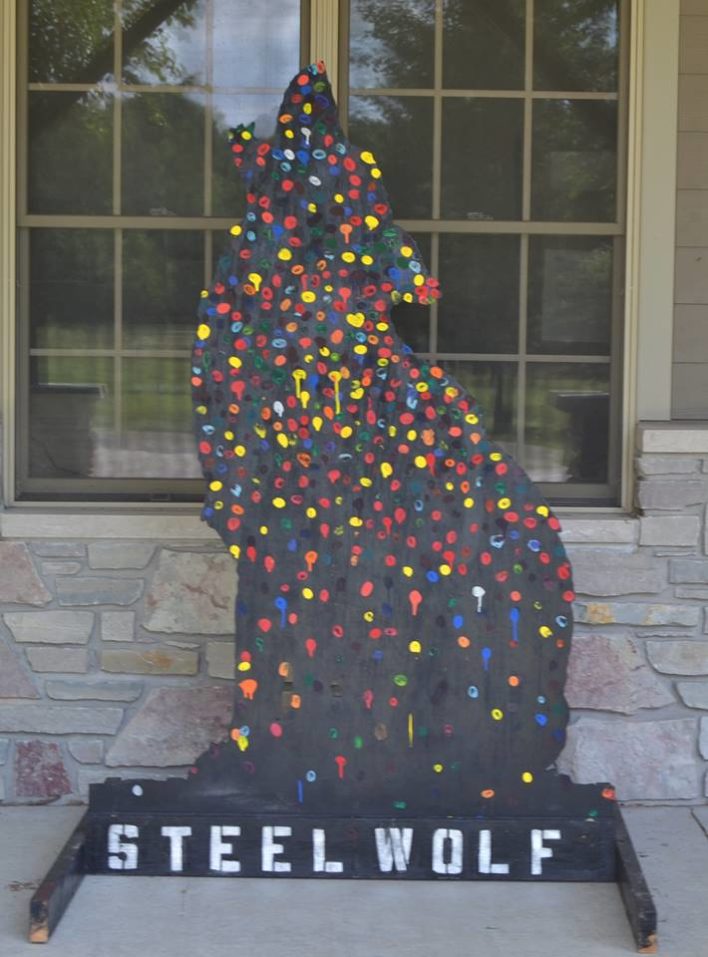 Day campers celebrated in new Steel Wolf program

Last summer, day campers, counselors and directors gathered around a campfire each week to share stories about wolves and leadership. While mostly fictitious lore, the stories represented a set of values that emboldened the Day Camp program this summer.
Through a new accolade program called "Steel Wolf," day campers were celebrated for possessing up to six values and encouraged to be their best selves:
Appreciation for nature. Campers received a green rock by showing care and curiosity for nature.
Commitment to respect. Campers received a red rock by being mindful and respectful of rules and others.
Enthusiasm. Campers received a purple rock by demonstrating outward excitement and infectious positivity while at Minikani.
Responsibility. Campers received an orange rock by showing personal responsibility for themselves and belongings and/or accepting when personal actions result in consequences.
Leadership. Campers received a blue rock by being a positive peer who leads by example.
Empathy. Campers received a yellow rock for celebrating others, recognizing when others need help or by being open to diverse perspectives.
Counselors invited campers to think critically about their strengths in relation these core values.
"The main engine of Steel Wolf is the conversation between the counselor and camper," Day Camp Director Sam Weber said. "Our job is to encourage these kids to develop into the best version of themselves."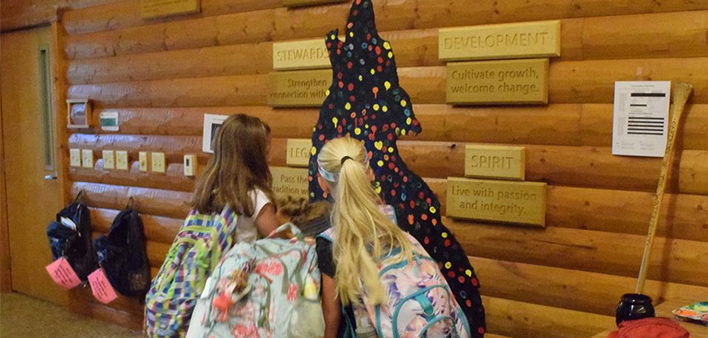 When recognized, campers receive a rock and place their thumbprint on it in the color that correlates with their strength. Then, in the same color, they are invited to place their thumbprint on the Steel Wolf sign—a symbolic representation of their contribution to a positive and inclusive culture at Minikani.
"The Steel Wolf program has helped kids develop self-awareness and growth," Day Camp Director Hailey Proebsting said.  "We saw less homesickness and more respect of quiet expectations during announcements. Eight out of 10 campers also chose to spend the night at the optional sleepover, which shows their growing interest in becoming more independent."
A Stepping Stone
The colors associated with the totems are similar to the colors of the accolade and spirit bead programs in the Girls Unit (GU) and Boys Unit (BU), respectively.
"The Steel Wolf program is designed so that a day camper moving into the GU or BU has tools to continue their growth," Weber said. "Having a sense of familiarity will help them be successful in an overnight setting."
Ultimately, the Steel Wolf program contributes to a ripple effect of positive growth.
"We are hyper aware that you cannot do anything with a trait if it goes unrecognized," Proebsting said. "While Steel Wolf is designed to shed light on positive traits, it's really the campers who carry it out and own it in a positive way."
In addition to the six individual totems, one day camper per week is also considered for possessing commitment to all of the values—also known as the Steel Wolf award.
"We [counselors and directors] are up every night discussing and considering each kid," Proebsting said. "There is no age or personality that limits someone from receiving the Steel Wolf. They just have to be an awesome kid who embodies our vision." For more information on YMCA Camp Minikani's vision and values, please visit www.minikani.org/the-minikani-experience/.
Comments