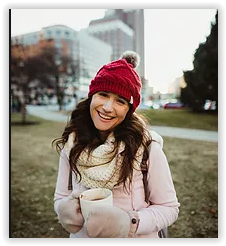 100th Anniversary Spotlight: Calie Herbst
Meet Calie Herbst, Minikani Alum and camp parent! Many of you may know Calie through her website, Miltown Moms, ( www.miltownmoms.com) a wonderful resource for Milwaukee area parents that details fun activities and events to do with kids.
If you don't know Calie due to Miltown Moms, it's probably because you knew her back when she was a camper or counselor at Minikani from 1995–2004. She also met her husband Erik at camp and eventually got married here. They have three kids–ages 8, 5, and 3. They do family camp every year and this year her eight-year-old will experience overnight camp for the first time–she and Erik are elated!
Calie attributes her experience at Minikani in helping her thrive as a business owner. She gained self-confidence, learned the importance of goal-setting and being in community with one another, and how to take initiative. She is so thankful for the role Minikani has played in her life and prays for its continued success in impacting young people's lives.
We look forward to having her son at camp in a few weeks and celebrating our 100th Anniversary with Calie and her family!
Tags:
100th Anniversary
,
alumna
,
Camp Minikani
,
camper
,
counselor
,
Miltown Moms
,
Summer Homeland
100th Anniversary Spotlight
Comments